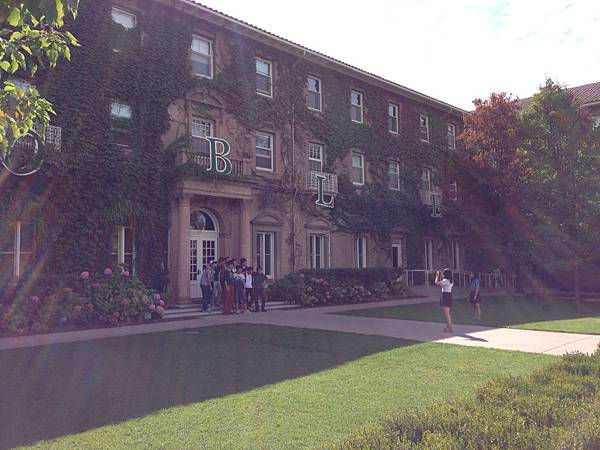 470 days ago when I began this blog,
I didn't want to disclose any personal information like who I am, my major, my life, and so on.
However, life in Stanford in this summer vacation was so meaningful to me that I decide to share it with everyone.
Thank you for your reading
(p.s. Without permission, no name and pictures will be shown in this series)
In this month, I made lots of breakthroughs. I did so many things that were unprecedented to me.
First time to go abroad on my own.
First time to go abroad for over 10 days.
First time to live in a dorm and share my room with a roommate.
First time to do my own laundry. (might be hard to believe, but it's true)
First time to meet top university students from Mainland China, Japan, and Macau.
First time to watch a live professional baseball game. (though I am a softball player) (SF v.s. PHI)
First time to watch live American football game. (SF v.s. Denver)
First time to have oysters. (I never eat them in Taiwan lol)
First time to have coffee. (Starbucks frappuccino chilled coffee drink. Only NT$45 each in the U.S. !)
First time to buy luxury goods. (Burberry brit shirts, Bloomingdale in Union Square)
First time to try dippin dots, an interesting kind of ice cream and I've never seen it in Taiwan.
First time to sing the Beatles' song in front of people. (Don't Let Me Down. Karaokes in Taiwan don't have Beatle's songs because they are too old and few people know about them. )
First time to take Uber. (Going to great mall)
First time to invite someone for the prom.
First time to have a beer. (Alcohol is not allowed during the program actually, but we did it after the prom
)
First time to do a survey (We investigated the frequency of Americans consuming alcohol.)
First time to make a presentation in English. (Find a partner and introduce him/her to everyone in the class)
So many FIRST TIME happened during the program, it is not reasonable if I don't memo them
Before the program, I was afraid that I cannot finish the project because I didn't know how to do a survey.
This might be surprising because most people think of me as a confident man,
but I know clearly that it is just ostensible.
However, the survey went smoothly, and I had a pleasant experience doing it.
It was my first time to search for papers about sociology.
As soon as I finished my 26 pages essay with solid references, I felt a great sense of achievement.
Most important of all, it is my pleasure to meet so many terrific guys here.
The social life here is perfect.
We get to know each other quickly, had many sweet memories
(scavenger, baseball game, smore, Santa Cruz tour, prom, and so on), and took lots of crazy pictures.
We also had many men-talks. I shared my problem with many people, and they gave me nice pieces of advice.
I made a reflection on myself and tried to be a better man.
One month is really too short for us !!
I really miss them now.
I treasure time in ALC very much because I just graduated from NTU.
ALC program is my last time to play as a student.
I don't need to be worried about anything.
All I have to do is enjoying the class, hanging out with friends, and having fun.
I am 22 years old now, and I should face the 'real world'.
As a graduate student, I get paid from my advisor, but that also means I am no longer in a lifestyle without significant responsibility.
It's high time I hold serious attitude and take responsibility for my job (a graduate student) and myself.
This is why I call ALC a 'lullaby'. Everything is so sweet and relaxing.
Before ALC, goal was nebulous. I don't know what worths me to strive for. After joining ALC, I have a clear goal now.
I hope that I could be a top school student in the U.S.
I know what I want to pursue, and I am ready to fight for it.
Thanks all of you for granting me such a wonderful summer vacation.
Stanford ALC program, just like the founder said to all of us,
would be an LIFE-CHANGING EXPERIENCE.
(to be continued)